Shannon Maynard is director of Grameen Foundation's Bankers without Borders initiative. In today's dynamic world, the importance of volunteering – to both the recipient and the volunteer – cannot be exaggerated. Unfortunately, volunteering is often perceived as a form of charity or something that only the recipient benefits from. What is not emphasized enough is the fact that volunteers gain just as much from the experience.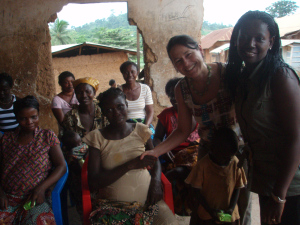 Lynda Barton took a sabbatical from her job with a pharmaceutical company in Switzerland to work with Grameen Foundation's mobile health initiative in Ghana.
Since Grameen Foundation's Bankers without Borders® (BwB) initiative was launched in 2008, 800 volunteers have logged more than 65,000 hours of service – worth more than $5 million – helping poverty-focused organizations and their clients around the world. Listening to their stories and learning from the insights they have gained through those experiences has been invaluable. In this post for international-development portal Devex, Shannon Maynard, director of Bankers without Borders, discusses some of the ways in which volunteers benefit from donating their time and skills to social enterprises fighting poverty. She contends that experience and professional standing don't really matter when it comes to "skillanthropy." Whether they're expanding networks or building cultural and professional skills, she says, everyone has a chance to leverage their volunteer experience to best fit their needs and rise within their respective organizations. >> Read the full post for all  seven ways that volunteering services pro bono have helped advance our volunteers' careers in development.