Bankers without Borders has welcomed the first wave of summer interns to Grameen Foundation! Summer is a busy and exciting time; the extra support allows our teams, interns included, to tackle challenging problems and explore innovative solutions. Each intern has a special project that will directly support the direction of some programs. Our interns will be working across various teams including Mobile Agriculture, Legal, Development, Marketing, and Monitoring & Evaluation. Throughout the summer they will have the opportunity to meet key stakeholders in the sector and interact with Grameen Foundation staff of all levels.
Why are interns so important? Grameen Foundation has a relatively small staff despite all the work we do! As such, volunteers and interns are critical to assisting our employees in carrying out their work.  Interns, in particular, enable program and operations' staff to pursue informative research and analysis and more efficiently fulfill ongoing reporting and administrative requirements.
A huge welcome to our mighty summer interns!
For more information on Grameen Foundation's internship program or to find volunteer opportunities, please visit www.bankerswithoutborders.com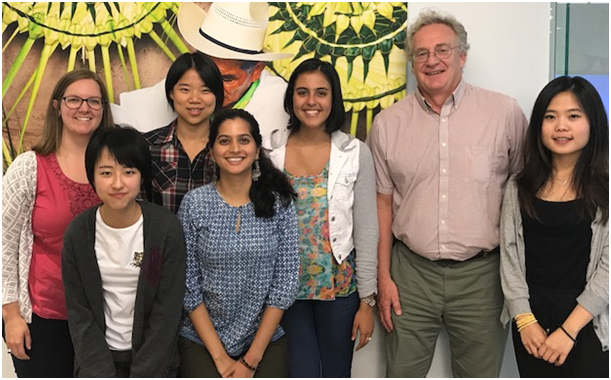 From Left: Kathryn Allred- Annual Giving Intern, Chun Jin- Research, Evaluation and Monitoring Intern, Coco Gong- Research, Evaluation, and Monitoring Intern,  Urvi Kalra- Marketing Intern, Kyla Mittal- Agriculture     Research Intern, Steve Hollingworth - President and CEO, Lila Chung- Research, Evaluation, and Monitoring Intern