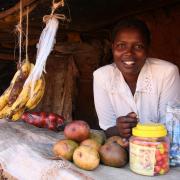 In celebration of International Women's Day this week, Bankers without Borders is proud to highlight one of our female volunteers, Mary Vail, who spent a few weeks in Kenya working closely with a social enterprise that makes clean burning, portable wood and charcoal powered cookstoves, and solar powered lighting solutions for the poor. During her time in Kenya, Mary could not help but be deeply touched by the intense entrepreneurial spirit of Kenya, many of whom are women. In the spirit of the week, we raise our hands in solidarity, in dignity, in encouragement and in respect to all women everywhere! 
Celebrating the Entrepreneurial Spirit of Kenya!
Merriam-Webster dictionary defines entrepreneur as one who organizes, manages, and assumes the risks of a business or enterprise. As an entrepreneur, I can appreciate how others seek to find success in operating their own business. And, I am often amazed at the challenges some must overcome to ensure their business thrives.
During my assignment as a Bankers Without Borders volunteer for EcoZoom, my husband David and I were given the extraordinary opportunity to work with a social enterprise at their global headquarters in Nairobi, Kenya. For 17-days, we learned much about EcoZoom and how their products impact the world. We also witnessed the entrepreneurial spirit of Kenya's citizens. Micro and small businesses seem to be the life blood of the country, with ambitious entrepreneurs providing essential offerings within their community.  City sidewalks, rural roadsides and markets are beaming with businesses (formal and informal) selling their products and services. Whether its clothing, shoe shines, car washes, crafts, hard goods, salon services, food, water, electronics or transportation, these businessmen and women strive to create a livelihood for themselves. Their makeshift structures (if anything at all) are no match for the environment. But even in the harshest weather, they were ready to serve their customers. And, to make their enterprise even more challenging, their competitors are often only a few feet away, selling the exact items.
Food vendors can be found on just about every street corner, each offering their specialty to passersby; from roasted corn cobs, to sausage, beverages, fresh produce, and candy. Car washes were a lively business, even between rain showers (which were daily), autos would be lined up roadside awaiting an attendant who serviced them with a cloth and bucket of water. In some areas of the city, there were miles of open markets lining the roads showcasing specialty items from metal fabrication and carpentry to stonework. And, local artisans showcased their crafts at the Maasai Market, museums and tourist resorts.Touring the countryside, we encountered an array of vendors lining the highway eager to serve the locals and travelers. Some offered a single product while others had a variety of goods including seasonal produce, fish from a nearby lake, soda pop or fresh cooked foods. Even in the Kibera slum, an entrepreneur sought to capitalize on an opportunity where residents do not have access to in-home running water; offering hot showers and toilets for a fee.
The determined entrepreneurial spirit in Kenya is one to be admired and celebrated!