Theresa Alvarez is spending five weeks in Medellin, Colombia as part of Wells Fargo's Global Fellows program. Theresa is one of six Wells Fargo team members volunteering at Grameen Foundation Latin America. While in Colombia, Theresa will conduct a market and risk analysis assessment that will help Grameen Foundation develop and provide appropriate financial service offerings for smallholder farmers enabling them to improve their businesses and livelihoods.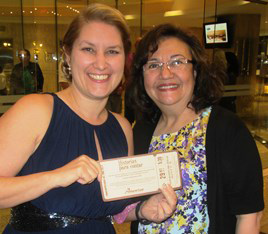 Last Tuesday, Pilar and I had our first financial service provider meeting. We met with Interactuar, a 30-year-old micro-credit institution (MFI). The CFO and Director of Lending were both so welcoming, helpful, and open with information. Even though they have been making loans for 30 years, they have just begun to serve rural farmers in the past two years. The barriers they faced included safety and transportation. Transportation has improved, but continues to be an issue. It takes time and money for loan officers to travel up into the mountains, or farmers to travel down to the office. Safety has improved considerably, and there is no longer the fear of violence that was present before when traveling in the mountains.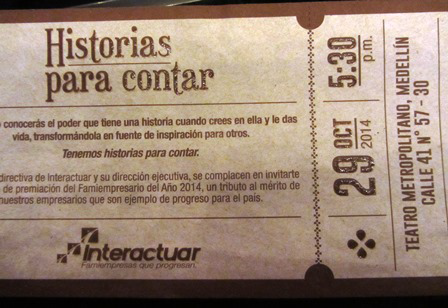 At the end of the meeting we were invited to their annual event called "Una historia para contar", which translates to "Our history to share." The photos you see are from Wednesday night at the Teatro Metropolitano. The mayor and governor were there, and spoke about the impact Interactuar has made to better the economy, and all the people they have helped. The best part was hearing from the 10 clients that were highlighted. We had the opportunity to hear first hand about the businesses, and how each has grown profits, created jobs, and made their lives better. We heard from three sisters who made clothes; a grandmother who sold desserts; a woman who exports flowers; a farmer who produces milk; and many other inspirational stories.