Please join us for an uncoming webinar!
BwB Turns Five: Imact, Key Insights, and Lessons Learned
Thursday, June 12, 2014
12:00 PM - 1:00 PM EDT
RSVP HERE. Space is limited.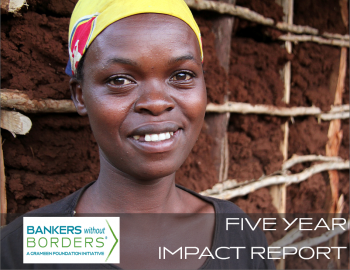 In 2008, Grameen Foundation launched Bankers without Borders® (BwB) to create an efficient, operational framework to mobilize, engage and leverage the talent and skills of the private sector to help support both its own mission and the missions of other poverty-focused social enterprises. Starting with just 100 volunteers at the time of our launch, today more than 17,000 business professionals, academics, and students from more than 170 countries have joined Bankers without Borders to contribute their time, skills and expertise to strengthen organizations fighting global poverty. 
Over the course of our first five years, we've invested a lot of time in trying to perfect our model and learn what's working and what's not. And now that we have enough experience to speak with more authority on the real, tangible benefits and outcomes we're seeing (or not), we feel it's our duty to share what we know with others because the problem of global poverty is far too large and complex for Bankers without Borders, or even Grameen Foundation, to solve on our own. 
Sabrina Quaraishi, Senior Program Manager for Bankers without Borders, will present the findings of the program's first impact report including key insights and lessons learned. Please download our Five Year Impact Report to read more. 
We hope you will be able to join us as we unveil our work, impact, lessons learned and our vision ahead. 
About the Presenter
Sabrina Quaraishi, a Bangladeshi national, joined Grameen Foundation in 2007. As the Senior Program Manager for Bankers without Borders, she manages the overall operations of the program, and manages a global team of 9 staff members based in the US, Europe, Asia, Africa, LAC and Mena. Sabrina's interest in microfinance and Grameen started in 2000 when she had the opportunity to study the empowerment of village phone operators at Grameen Bank in Bangladesh.