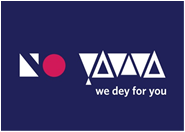 Every day in the office, I hear the words pregnancy, condoms, and sexual & reproductive health – something unimaginable back in my previous life as a management consultant in the US. But now with the Grameen Foundation in Ghana, it's become my new normal and the topic of daily discussion with team members in the No Yawa program. "No Yawa" means "No problem" in Pidgin and targets Ghana's youth population (age 15-24) by addressing their high unmet sexual and reproductive health needs. We currently boast over 185,000 users as of June 2015!
No Yawa was born out of a partnership between Grameen Foundation, DKT International and Marie Stopes, each of whom brings unique capabilities to the table, allowing us to provide youth with a complementary suite of services:
| | |
| --- | --- |
| | Grameen Foundation is the technology partner that engages youth via voice and SMS messages, voice vignettes, a low-data SmartSex interactive website, and an online soap opera series "No Regrets," covering topics such as relationships, sexually transmitted illnesses (STIs), contraceptives, pregnancy, etc. |
| | Marie Stopes is the clinical partner who runs a "Marie Call" hotline that handles calls related to sexual and reproductive health, as well as youth-friendly clinics where youth can seek help from healthcare professionals. |
| | DKT International is the social marketing partner that sells affordable contraceptives in the Ghana market, runs our No Yawa Facebook page, and handles most of the marketing efforts. |
When we did a user feedback survey last fall, we found that most of our mobile messaging users were relatively older (age 20-24), lived in the urban areas, and owned a smartphone that had access to the Internet. While these findings weren't negative, Grameen Foundation's mission is to "connect the poor to their potential," so we shifted our tactics towards recruiting younger, rural youth who likely own basic or feature phones since this demographic is more vulnerable to a lack of proper education on sexual and reproductive health, and suffers from higher rates of teenage pregnancies and STIs.
One of the key ways we recruit new users is via school activations. We partner with a theatre group called "Theatre for a Change" (T4C) who visit senior high schools across Ghana and perform interactive skits about sexual health topics. In February, I took a 5-hour road trip to Takoradi in Ghana's Western Region to visit Action Remedial School with the T4C team and observe how a typical school activation works as well as identify any necessary improvements.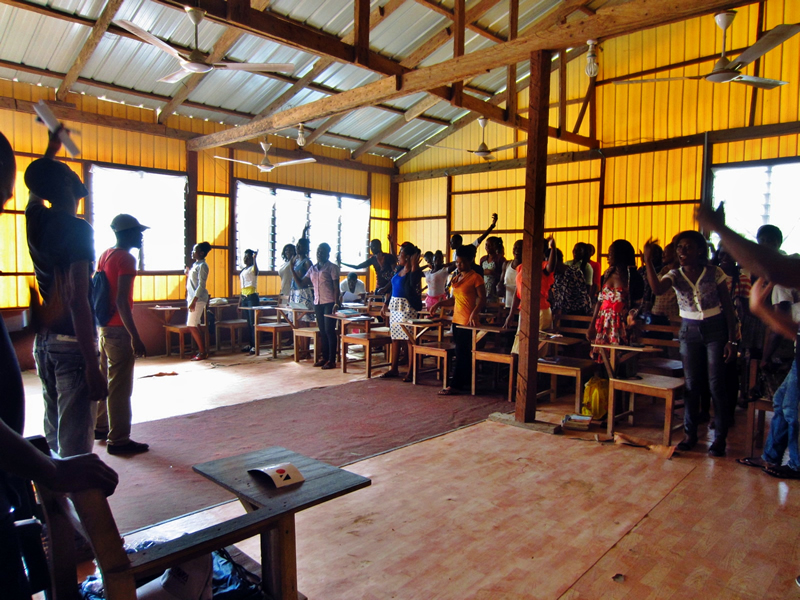 T4C Project Officer Nii helps the students loosen up with some stretches and vocal exercises
We arrived early that hot, humid morning and the T4C team set up a few chairs at the front of the classroom as their theatre "set." Nii, the T4C Project Officer, warmed up the crowd of shy students – ranging from late teens to early 20s – from their morning class by having them stand up, stretch out, and do some silly vocal exercises. Talking about sex is uncomfortable for any teenager, and even more so in Ghana where cultural taboos and religion play a large role in their lives, so most young people hesitate to share their thoughts or ask questions. However, that doesn't mean young people are not having sex – in fact, Ghana Statistical Service data shows the pregnancy rate among urban females aged 15-19 is 7%, while the rate for their rural counterparts was twice as high. Part of No Yawa's mission is to create a safe place for them to learn about and discuss these difficult topics, regardless of whether they choose to have sex or not.
During a Q&A session with a DKT health expert, I realized just how little the students knew about the basics of sex education. The questions they posed included whether or not they could get pregnant from oral sex, how to use a condom, and what are the symptoms for certain STIs. Thinking back to my own experience growing up in Canada, these were topics I had started learning about in middle school.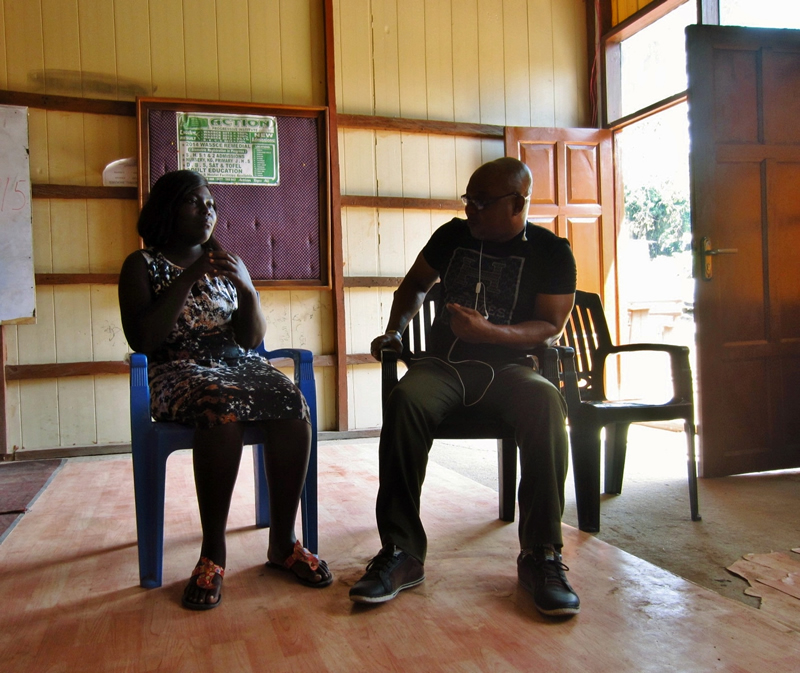 T4C performs a skit in which a high school girl faces peer pressure to have sex
My favorite part of the morning had to be the interactive skit – a perfect blend of being both educational and entertaining! The story begins with a high school girl who is pressured into having sex by an outspoken, charming boy. Later, she finds out she is pregnant and, ashamed of her actions and unable to talk to her family, she seeks help from a friend about her options. Her friend advises her to take a medicine that will allow her to discreetly abort the fetus, but when she takes it, she reacts badly to the medicine and dies. The school then reprimands the boy who got her pregnant and the friend who gave her poor advice. Unfortunately this isn't an uncommon scenario for Ghanaian youth.
At this point, the tables are turned and the students have to answer what they would have done differently if they were in the girl's shoes, a segment T4C calls "rehearsing for real life." Rather than explaining, student volunteers are called up to the stage to "tap out" one of the actors and act in their place to demonstrate how they would handle the situation: saying no to sex, negotiating condom use, seeking help from a health professional, etc. By this time, the metaphorical 'fourth wall' had been broken down; the actors' impressive improvisation skills were put to the test and students were actively engaging with the performance – laughing, clapping, and encouraging their friends to participate.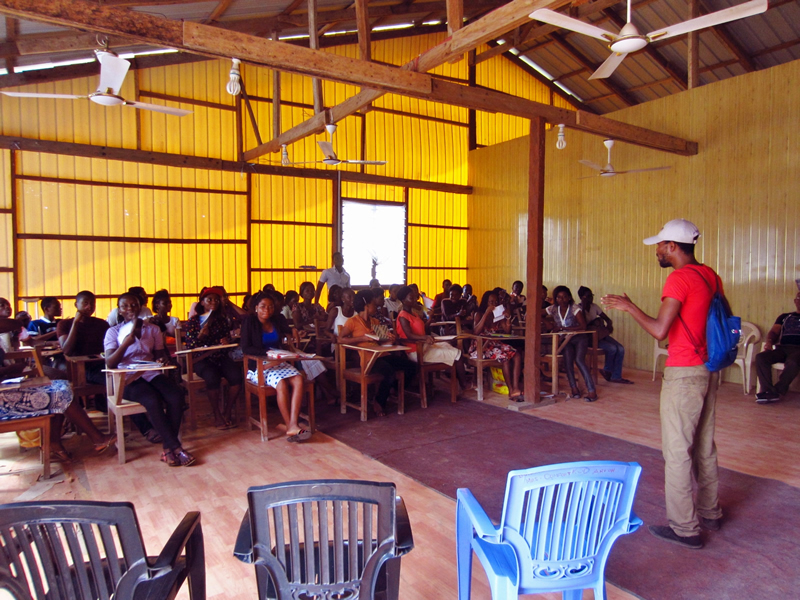 Students are encouraged to register for Grameen's No Yawa SMS and voice messaging service
After the skits, a No Yawa staff member told the students about our mobile messaging service and encouraged them to register for our SMS or voice messages that answer many of their questions, as well as dispel myths they might've heard of. By the end of the morning, the students had let their guard down and it was clear that our skit and the Q&A session had spurred a lot of discussion among them. We ended with some enthusiastic chanting of our No Yawa program slogan: "No Yawa – We dey for you!" which seems to have resonated with the youth. I've had young Ghanaians approach me in public when I'm wearing my No Yawa shirt, repeating the slogan while giving me a high five. It's always inspiring to feel that your work has made an impact on the lives of others.

Lisa (right) with two of the GF No Yawa staff Kwesi and Angelina
While these kinds of face-to-face recruitment activities have a higher user acquisition cost relative to social media campaigns or alternative methods, it has proven effective in reaching rural youth and driving deeper brand awareness. Changing perceptions around contraceptives and building confidence in partner communications take time – and certainly takes more than a 160-character SMS message – so we hope the suite of services across our 3 partners will help educate youth and guide them towards seeking professional medical assistance when necessary. As we look to wrap up the No Yawa program by December of this year, I am working on building strategic partnerships and commercial models for our services to keep them sustainable after the donor funding ends.
No Yawa – We dey for you!
__
Lisa Wei is Grameen Foundation's Mobile Health Strategy Fellow. She is based in Accra, Ghana and can be reached at lwei@grameenfoundation.org.