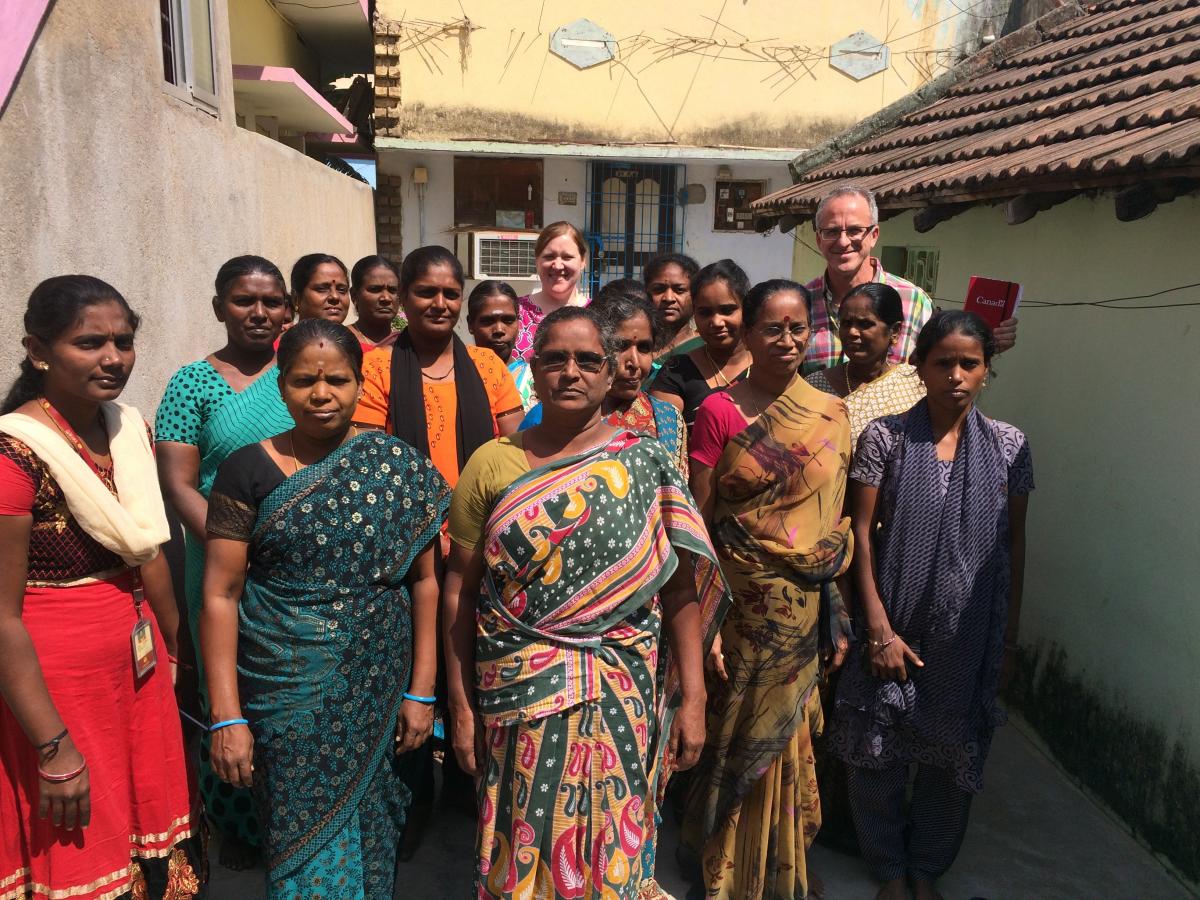 India Week2
How many Indian women from lower economic classes does it take to change a lightbulb?  No…I am not being pejorative!  Actually it takes some 15 to 20 eager and entrepreneurial Indian women assembled in a neighborhood borrowing group to change the lightbulb.  And in banding together, they truly bring new light to their homes, their children, their communities, to their independence.  
Many of you might already be familiar with Grameen Bank and Muhammad Yunus.  Some 20 years ago, he launched this idea in poor neighborhoods of rural Bangladesh where he set out to empower women in the developing world by offering micro-loans.  These are small loans of ~$200 or even less that allow women to embark down the path of micro-entrepreneurship.  The brilliance of the idea was to have lending institutions provide these loans in bulk to groups of 20 women at a time.  The women form groups of like-minded women, and they agree to jointly guarantee the combined loan.  Therefore they serve as a peer support group, and for the lender this structure serves as a powerful guarantee underpinning the otherwise risky loan.  
This week, the people at the microfinance institution I'm volunteering for in Chennai, Varam, took us to visit some of these groups.  And an inspiring occasion it was.  As you can see from the photos, some 20 women crammed into a small room (belonging to one of the women's home) dutifully attending their monthly meeting with Varam to make their monthly loan payment and to gather to hear some guidance from the loan officer.  
I pepper the women with questions (using my best Tamil language idioms ;)  Two of them had used the loan funds to buy a sewing machine.  They shared the easy math.  The loan repayments are about 1300 Rupees/mo.  Meanwhile the sewing machine helps them now earn 3000 per month from stitching jobs.  Further, the machine will be paid off in 2 years.  Simple and powerful.  
The next woman explained that she bought a flour grinding machine.  She now prepares meals for her family (like idli), rather than buying prepared food.  While this saves 100 Rupees a day, she also now prepares food for sale, which she sells outside her home earning some 200-250 Rupees per day.  
Five of them explained how they are the primary income earners in the home; one husband had an injury; another left the home (no further details were provided).
The women stand and chant an oath of solidarity to each other, and then the loan officer collects the loan payments and shares some general business and financial literacy guidance.  This group assembled from a neighborhood at the outskirts of Chennai has just made their 8th full loan instalment …without a hitch.
Witnessing this is inspiring.  Many of these women are breaking the mold.  They are often poorly educated and illiterate.  They are expected by custom to remain at home, complete the housework and care for their children.  Yet, urged on by a desire to better their lives, or by a goal of saving towards children education, they bravely embark down this path of seeking modest entrepreneurship.    
One of the things I am working on with Varam is figuring out how to better serve this population.  Specifically, some 20% of these women have received and paid off several rounds of loans.  They now have built a small cottage business that is ready to expand further.  How does Varam now begin to offer much bigger loans to these women?  And can they provide loans to the women individually, separate from the group structure?  How does Varam pull this off successfully?  Researching and thinking through this has kept me busy including much of this last weekend. My project mates back in the US are helping me think through the issues too, as are some other colleague/friends.  (Thanks!!)
======  
Before signing off, I just have to relay one more fun thought.  There are many things that strike you when you arrive to India.  But one of them is definitely the traffic, especially in these overcrowded, over-populated cities.  The assault on the senses is not easily captured in photos, so I offer another way to describe it.  Imagine the everyday traffic jams on the LA freeways.  Now layer on to the scene all the fans emerging from the stadium after a super bowl victory by the LA Rams with all the commotion and honking.  Lastly, remove from the scene any semblance of order, or police, or rules of the road, or traffic lights.  It's better to close your eyes and imagine.  Because that is what I do when I am travelling in the rickshaws here…I close my eyes and pray.
Thanks for listening.
--Gadi Meir, BwB Volunteer