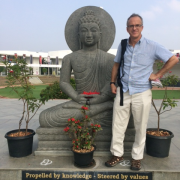 It's week one and already it seems like an eternity since I have been in the US.  Living in India is a mind-boggling experience for a westerner (or should I say "this westerner", even though I have lived in India before).  Each day brings a new experience, usually one that alters the way you view the world or makes you fundamentally question the way you view yourself.  It's that profound.
How can a country with a significant level of poverty be so spiritual in nature even among the many who struggle to make basic ends meet?  How can a country that has vital infrastructure needs like reliable roads and utility service be experiencing one of the highest economic growth rates - - if not the highest - - in the world?  How can a country that has embraced technology and progress still preserve so richly their heritage and rituals and family traditions?  It's fascinating to watch and ponder.
My volunteer project involves working with Varam Capital, a microfinance institution in Chennai and assist and consult on improving the organization's micro-lending business model.  Yet on some days it seems that the roles are reverse, and that they have more to share with me and my team than visa versa.  Here is an industry, after all, that manages to provide $billions in micro loans (at approx.. $200 a pop) to a vast underserved and unbanked segment of society …and they do it profitably and experience a <1% loan loss rate.  We certainly haven't figured out how to bank the large segment of under-banked in America.  Hopefully our contribution and recommendations in areas of risk assessment and designing credit scoring models will prove to be of value.
The people of Varam Capital have been wonderful.   I think they feel (..or know) that us American tourists have difficulty coping in new environments, so they fawn over us daily, making sure we get our morning tea just right, scheduling all our drivers back and forth from our hotels, and ensuring the wildly spicy food of South India is tempered with a slash of yogurt.  We are surely being spoiled.
Next week, will tackle more of the challenges that the organization is facing:  How to help Varam figure out how to use text technology to receive customer loan payments instead of their current process which is heavily cash-based; how to introduce risk-based pricing in their lending instead of their current flat interest rates that everyone gets assigned;  how to consume the messy rice meals using our hands; how to keep our nerves from bursting with each swerve and near-miss of the taxi drivers who are more suited for demolition derbies rather than driving the streets.
To be continued next week.  Thanks for reading.
Note: Gadi Meir is a BwB volunteer currently spending a month in Chennai on a volunteer assignment.