Harvard & Haas Business School Students Assist AppLab Indonesia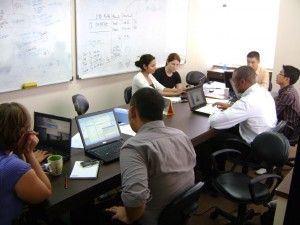 In January 2010, Ruma, an Indonesian social enterprise, received 12 volunteers from Harvard Business School and University of California - Berkeley's Haas Business School as part of the Bankers without Borders® program. The students came from various backgrounds: medical doctors, technology experts, supply chain managers, and consultants, and were divided into various projects mostly focused on developing new products for Ruma.
The information services group: Lorenzo, Ksenya, and Prithvi, worked on a project to assess and develop a business model for a local jobs application. Ruma is working with AppLab to develop a web site that enables companies and individuals to post blue-collar jobs such as for drivers and factory workers. Job seekers who register for the service will receive three postings per day based on their skills and location.
The micro-retail group: Brandon, Erin, and Niya, worked on creating a network of franchised 7-Eleven-like village kiosks. As part of the project, they were able to meet with the CEO of Garudafood, one of Indonesia's largest consumer packaged-goods companied, who agreed to work with us to create a pilot project. The students also went out to the field and collected data on the sales patterns of small retail shops in urban and semi-rural areas.
The healthcare group: Kouki and Steve, worked on creating a healthcare solution using mobile phones. After several meetings with the World Bank, UNICEF, the Indonesian Ministry of Health, and through visits to community health centers, the students discovered that there is a potential to develop an application that enables Indonesia's 270,000 community health workers to collect and transmit health data electronically.
The financial services group: Lucy and Kathryn, compiled a list of potential funders and partners for Ruma available through the HBS network.