Expanding the Progress out of Poverty Index™ (PPI™)
By Bankers without Borders® Volunteer Mariella Regh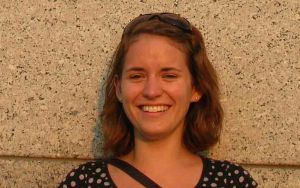 When I heard about the volunteering opportunity with the Grameen Foundation in my microfinance class, I was very enthusiastic about it. I applied to the position of "Data procurement Intern" with the Social Performance Management Team and luckily I was accepted within a week. There were a lot of reasons to join but the prospect of contributing to the advancement of the microfinance industry worldwide, assisting MFIs in their job of serving the poor, thrilled me.
My task was to contribute to the expansion of the PPI, a poverty measurement index that can be used by MFIs to assess their work in terms of social performance and eventually better serve their clients. I was to obtain raw data from national household/income and expenditure surveys, the basis for every country-specific PPI. For some countries this data can simply be downloaded from a website, Brazil, for instance. With some other countries, you have to commit to certain terms of use before being able to buy the data, but for others, the national statistics bureaus simply refuse to share any data with third parties. I spent most of the time writing emails and letters, researching new contacts for difficult cases, and reading some of the country-specific laws. Over time, I was given additional tasks such as translating training material from English into French or setting up Excel spreadsheets summarizing the PPI outreach.
Volunteering with the Grameen Foundation was an incredible experience. It was an honor to contribute to the work of the Grameen family. It allowed me to gain a better understanding of how a non-profit works. Also, I had the opportunity to meet amazing people that all share aim at alleviating poverty around the world. Being part of a team where everyone works together for a common goal was probably the most valuable experience I take away from my volunteering experience.
Thank you to everyone at the Grameen Foundation!!
Disclaimer: The views represented here are solely those of the volunteer and do not necessarily represent the views of Bankers without Borders, Grameen Foundation, our sponsors, the microfinance institutions, or the volunteer's employer.