BANKERS WITHOUT BORDERS® ASSISTS ENDA INTER-ARABE IN ASSESSMENT OF THEIR AGRICULTURE PROGRAM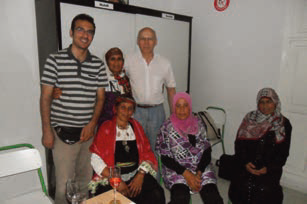 Providing agriculture loans has always been a challenge for Enda but as a large portion of their beneficiaries are engaged in agriculture they have been adamant to find ways to support the Tunisian farmers. Enda started providing agriculture loans and needed a consultant to help assess their current offerings. Jean-Marc Bission, a BwB volunteer consultant with over 20 years of experience in rural finance spent two weeks in Tunisia working closely with Enda to evaluate the current agriculture credit offerings and recommend new products and services based on the farmer's needs.
During the mission, J-M Bisson had the opportunity to visit rural branches and to meet various microfinance stakeholders. Khereddine Kahia, head of the rural finance unit at Enda said that there can be no doubt that it was very useful for the rural credit team to spend two weeks with J-M Bisson. "Working with an expert in rural development of his stature was a great opportunity to exchange ideas and discuss what Enda currently offers to rural clients. Interviews with clients and field staff enabled Enda to better assess its new agriculture microloans and understand the clients' needs".
Based on the onsite visit, J-M Bisson made recommendations and gave advice to Enda who has already started to consider some of the suggestions made.